Who We Are

Sandra-Leigh Serio & Louise McCombs

joined forces to bring an Astrology Conference to Northeastern Ohio for everyone to come, learn, share, relax, mingle and enjoy fellowship.

SANDRA-LEIGH SERIO
Sandra-Leigh is a full time, Professional Astrologer with a Master's Degree in Psychology from Naropa University. For more than 20 years, she has been writing a weekly astrology column for the Sun Newspapers in Northeast OHio. Sandra-Leigh has 0ver 25 years experience working with clients from all over the United States.
She also teaches, lectures, and makes media appearances. Currently she serves as President of Rocky Mountain Astrologers (ROMA) and Vice President and Membership Chair for OPA, Organization for Professional Astrology. Sandra-Leigh is a founding member of CAPA< Colorado Association for Professional Astrologers.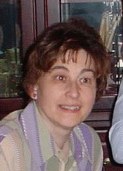 LOUISE McCOMBS
Louise McCombs began her astrological studies in 1975. After many years of independent studying, she joined a local astrology organization where her knowledge and expertise grew. In 1987, Louise & her husband Barry were on the faculty and organizing committee for the first Astro-Rama Conference, a North-East Ohio Regional Conference held annually in Hudson, Ohio. For 18 years they remained active with Astro-Rama and shared the task of director for the last 2 years of the conference. Louise also works as Coordinator for Sandra Leigh Serio's Psychic Fairs held several times a year in the Cleveland area. Through contacts at the conference, Louise has expanded her horizons, attending conferences across the country, meeting other professionals, and exchanging knowledge to increase skills and maintain the professional credibility of astrology.

The Midwest Astrology Conference continues where AstroRama left off. Founded in 1986 by Rose Lineman, AstroRama included a dedicated team (Jan Popalko Snodgrass, Sophia Mason, Louise and Barry McCombs), who embraced the best of astrological and metaphysical traditions. It combined learning and knowledge with personal growth and invited metaphysical readers to share their gifts and vendors to offer their products with the astrologers who shared their knowledge. When Rose passed away in 2001, Louise and Barry McCombs became the directors of AstroRama.
Building upon this foundation, The Midwest Astrology Conference offers a wide array of astrological experts for all levels of interest, from novice to professional astrologer. It also continues the tradition of offering metaphysical readings to both the public and conference attendees, and inviting vendors to sell their products.
Both Rose and Sophia have left this planet, yet their spirits stay with us. Building upon their legacy, The Midwest Astrology Conference is taking the next evolutionary step. Developing knowledge through partnerships gives you a chance to have fun as your understanding grows.
We are happy to continue this tradition.
Louise McCombs and Sandra-Leigh Serio